FAQs
When is Our Season?
September =
October – December =

Robotics 101 (learn to use the tools properly and other skills)

January – February =

Game reveal and build season

March – April  =
May – September =
Year-round=

Outreach
Community service
Training
Sponsor visits
What are the Team Expectations?
Team members are expected to:
Follow all our safety rules.

No horse play.
No running.
Shoulder-length hair or longer must be tied back.
Safety glasses/side shields must be worn.
Closed-toe and closed-heel shoes (no wheels or heels) must be worn.
No use of tools without a mentor being next to the student.
Do not tap the shoulder of someone using a power tool (wait until they are done to address them).
No loose sleeves, bracelets, etc. when using tools.
No necklaces, scarfs, ties, etc. may be worn in the build area.
No food or drinks are allowed near tools or computers.
If a mentor or the Safety Captain tells you to do or stop doing any of the things above you are expected to comply immediately or you will have to leave.

Exemplify Gracious Professionalism® in everything you do. Learn more about Gracious Professionalism® on the FIRST website.
Help create a positive, supportive place for others to learn, create and flourish.
Offer constructive criticism.
Let others have a chance to learn what you know and be willing to teach them.
Learn how to use various tools safety.
Look for ways to help when you are idle.
Contribute food, drinks and paper products to the team if you eat snacks and/or lunch from the team cupboard.
Sign in and sign out at builds, events and competitions.

At competitions, you MUST checkout with Mrs. Bryson before leaving (If Mrs. Bryson is unavailable, see Mrs. Sprague).
Your parent must let Mrs. Bryson and Mrs. Sprague know that you are leaving early and with whom you will be leaving.
If you are staying at a hotel, you will still be financially responsible for your portion of the room and you should let the parent responsible for the room know that you are leaving.

Attend the game reveal/kick-off and the team's strategy meeting that follows.
Sign up when you need a carpool ride (and contact the carpool driver if your plans change).
Dress in your Dreadbot T-shirt or jacket at:

Competitions
Outreaches
Community Service events
Sponsor visits

Professional dress is expected at all times (refer to the school dress code in the DCS student handbook. We follow this, but are more strict than the school dress code, because: we interact with sponsors, are on TV at competitions, media takes and publishes photos of us, college recruiters & employers scout our team members, etc.):

Pants should be free of tears and holes and can't be worn sagging.
Extremes are not permitted (swimwear, bare midriffs, ripped pants, bra and spaghetti straps, low cut, form-fitting, etc.).
No Undergarments may show.
Shirt straps have to be at least three finger widths wide.
Shorts/skirts/skorts should be at least as long as finger-tip length when arms are hanging loose at your sides (even with tights).
No cutoffs are permitted.
If in doubt, if you wouldn't want to see your mentor wearing it, don't wear it yourself.
Mrs. Bryson or her designee has the final say on appropriate clothing.

Belong to and actively participate with at least one of our sub-teams*:

Business Team
Drive Team
Electrical Team
Marketing Team
Mechanical Team
Pit Team
Programming Team
Service Team
Strategy/Scouting Team

*A full description of the roles and responsibilities of each sub-team can be found in the team manual.
Where is Our Meeting Location?
We will meet at Michigan Aerospace Corporation in Ann Arbor (1777 Highland Dr # B, Ann Arbor, MI 48108).
Can I Carpool to our Meetings?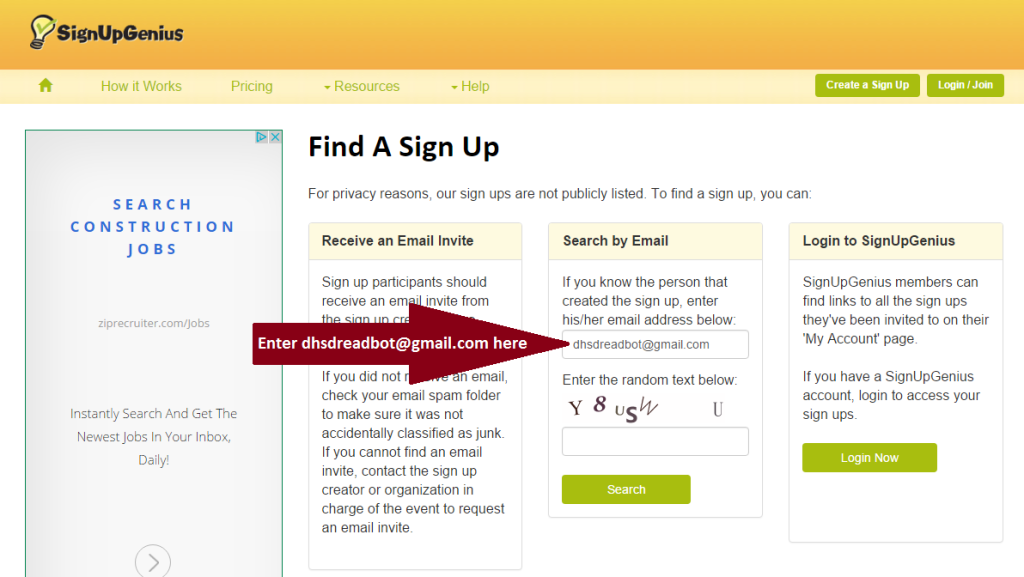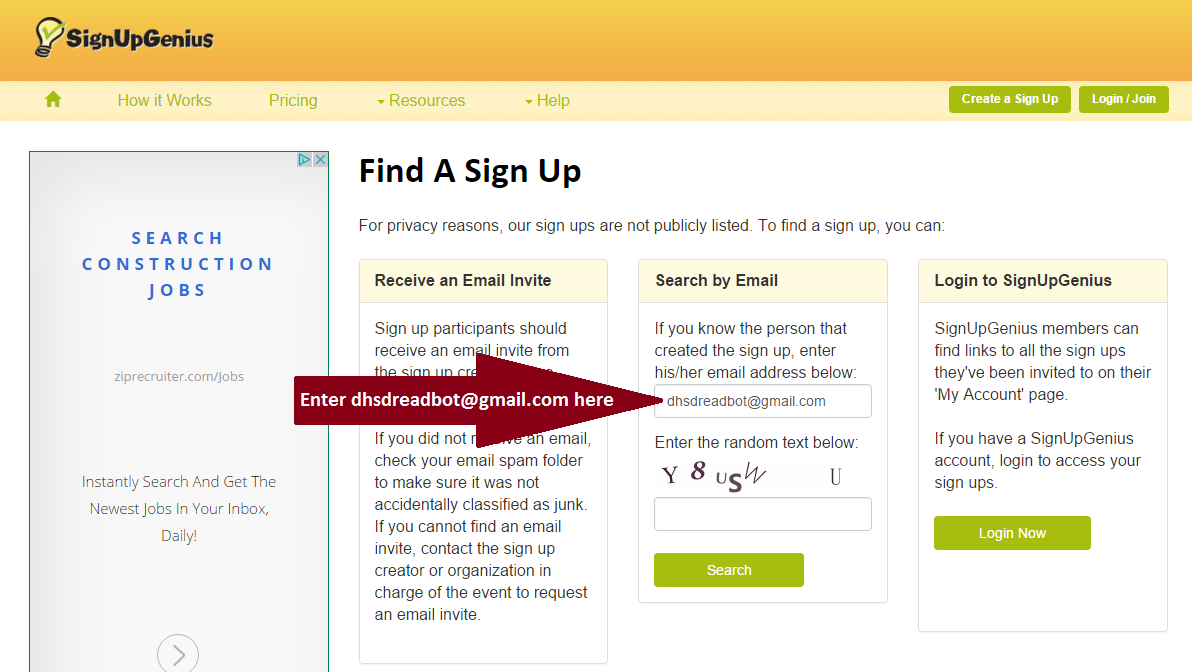 Students have the opportunity to sign-up each week for carpools that are driven by adults. The team uses SignUpGenius to match adults willing to drive students between Dexter High School (loading dock area) and Michigan Aerospace.
You will be sent a weekly email from Jennifer Bryson (dshdreadbot@gmail.com) throughout the season. Jennifer typically releases the carpool sign up on Sundays. You can also search for the carpool signup for the week by visiting signupgenius.com/findasignup. When searching for a carpool signup, follow the website address provided then enter dhsdreadbot@gmail.com in the 'Search by Email' field. Enter the text provided into the 'Enter the random text below' field. Then, click the 'Search' button. See image above for example.
Students that are licensed drivers can drive themselves. Other students may ride other students, but it is at the sole discretion of the students' parents whether or not they are comfortable with their student being driven by another student. No official carpools will be offered for sign-up for student drivers.
It is your responsibility to sign up for a carpool (both ways) if you need a ride to the build/event/competition. Also, if plans change and you no longer need a ride, you need to contact the carpool driver.
Other carpools are offered on an as needed basis (e.g. competitions).
What are the Costs Associated with Participation?
There is a cost to join and participate with our team. The cost is $225 for the 2018-2019 season. Travel, lodging and food costs for competitions is NOT included in this fee.
District competitions start on Thursday afternoon and end on Saturday evening. These competitions take place in Michigan.
Michigan State Championship starts on Wednesday afternoon and runs through Saturday evening. This competition takes place in Michigan.
FIRST Championship – Detroit starts on Wednesday afternoon and runs through Saturday evening. This competition is held in Detroit, Michigan.
What are the Competitions Like?
Competitions start with qualifying rounds, then progress to the semi-finals (the top 8 teams plus their chosen alliance team members for a total of 24 teams) and end with the finals (the top two alliances or 6 teams).
Matches are won based on the points total.
Quarter-finals, Semi-finals and finals are determined by best 2 out of 3 matches.
If the team performs well, we will take part in the Michigan State Championship in mid-April.
If the team performs well at the Michigan State Championship, then we will attend the FIRST Championship – Detroit in late April.
District Competitions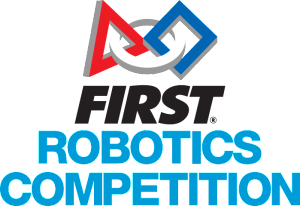 Michigan's FIRST Robotics Competition (FRC) program is divided into sixteen districts for targeted growth and team retention.
Competitions typically take place in early March in Michigan. These competitions start on Thursday evening and run through Saturday evening.
Each Michigan FRC team participates in two qualifying tournaments, called district events.
FRC State Championship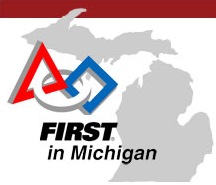 Michigan State Championship takes place in mid-April in Michigan. These competitions start on Wednesday evening and run through Saturday evening.
Teams qualify for Michigan State Championship and FIRST Championship through a point system that includes:
The ranking points we earn in matches
Points for going into eliminations which are based on rank/order of selection
Points for judged awards
Some extra points for rookies
Following the district events, the teams are ranked and the top ~160 teams (by their cumulative season ranking points) move on to the FIM (FIRST in Michigan) State Championship. In addition, the following also secures a spot at the Michigan State Championship:
District Chairman's Award winners.
FIRST Championship
These competitions start on Wednesday evening and run through Saturday evening. The 2019 Championship will be in Detroit.
The top 70+ Michigan teams (by their cumulative season ranking points) from the Michigan State Championship qualify for the FIRST Championship.
Some FIRST Robotics Competition Teams will be "pre-qualified" for the FIRST Championship in one of four ways:
By being a member of the FIRST Hall of Fame
By being an original and sustaining team since 1992
By being one of last year's FIRST Championship winners
By being one of last year's FIRST Championship Engineering Inspiration Award winners
There are three ways that teams can qualify for the FIRST Championship while competing at the Michigan State Championship:
Teams may qualify for the FIRST Championship by being selected for one of three awards at the Michigan State Championship:

Chairman's Award
The Engineering Inspiration Award
The Rookie All-Star Award

Teams may also qualify for the FIRST Championship by:

Being on the Winning Alliance at the Michigan State Championship. This qualification extends to all teams on the Alliance, including Back-Up Teams that were called up to play on the Alliance.

A team can earn a Wild Card slot at the Michigan State Championship.