2018 5th Annual National Advocacy Conference Registration Due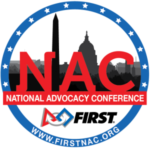 Here's all the information about the conference including the registration form.
Students are responsible for all costs associated with this conference. The board may decide to give a full or partial reimbursement of the $250 early bird registration rate that ends on May 15, 2018.
and
http://gettravel.com/wp-content/uploads/2018/01/2018-FIRST-NAC-Brochure-Registration-Form.pdf